April 2019
We Don't Always Get It Right...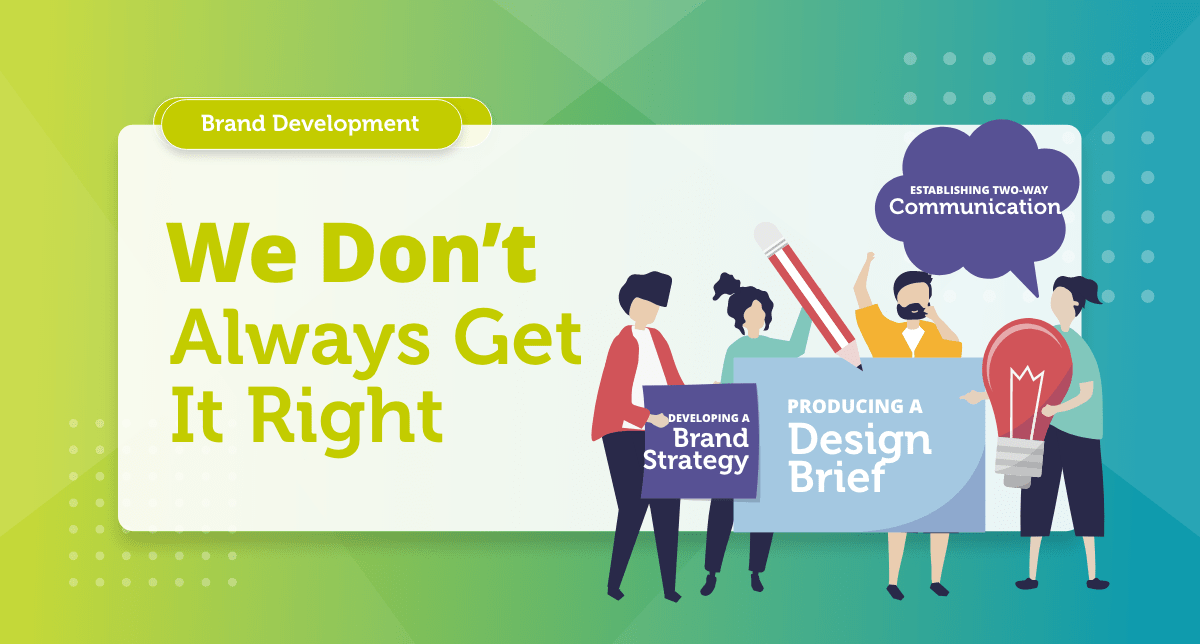 ---
Expecting that everyone we encounter will like, trust and resonate with our work and our approach is as likely as never paying taxes.
We all experience encounters differently, influenced by our individual circumstance, need, environment, past events and biases. While we would value everyone loving what we do and how we do it, it's just not possible.
However, there are things we as the designer and you as the client can do to help get it right, and ensure our purpose, motivations and intentions are consistent with how we build a supportive business relationship.
Developing a Brand Strategy
A brand strategy is vital to ensuring you're not just offering a product, but an experience. As consumers we are influenced by perception and good reputation. A brand strategy describes what your business stands for, the promise you make to your target audience, and the personality you wish to convey. It details the experience your potential and current customers have with your business, product or service.
Your brand is how we separate your company from your competitors. It helps us develop a logo, colour palette and other creative elements that will build a strong connection with your customers, cultivating loyalty and inspiring word of mouth
The more we understand about your business and how you wish to show up in the market, the easier we can develop material that will build credibility and trust.
Does your brand convey who you are and do you stand out from your competitors? Download our 'Brand Strategy Workbook' and let us help develop a brand you are proud of!
Producing a Design Brief
A crucial part of the design process is the design brief, it outlines the aims, objectives and key deliverables of each project. It helps develop an understanding of what is required and serves as an essential point of reference for both you, the client and us, the designer. Most of all, the design brief ensures that important design issues are considered and questioned before we start work
A good design brief for a design project should include your company profile, aims and objectives of the project, target audience, key deliverables, budget and timeline. Providing examples of what you consider to be effective design can be helpful, while including samples of your company's current marketing materials will demonstrate the design style and brand feel you already have in place.
The more insight you can give us about your design tastes, the more likely we will be able to produce something close to your expectations. We do not copy the ideas you send but use these as a reference to start of the design process. Expecting us to know what you are thinking rarely produces a great result.
Are you interested in having something professionally designed? Use our 'Design Brief Toolkit' to outline your requirements.
Establishing Two-way Communication
Achieving a positive outcome takes communication. As designers, everything we develop has been designed with a specific intention to achieve the aims and objectives outline in the design brief. Picking up the phone to discuss a design solution or issue is invaluable to the design process, responding to a feedback request is vital to keeping the project flowing.
Stalled projects take extra time, energy and resources, they impact on the consistency of the deliverables and increase the total cost of a project that you have asked us to deliver. Likewise, not providing feedback about elements we have produced can reduce the success of the piece being developed.
You know your business and brand best you have hired us for our digital expertise, design skills and to solve a problem therefore if we feel there is a better approach we will say so. We are passionate about working with you to produce elements that grow your business. We need to know what you are thinking and what you need, feedback both positive and negative is essential to a successful outcome.
We find our most successful projects happen when business owners and organisation leaders have defined their brand. They understand their project goals and deliverables and are committed to obtaining them, they partake in open honest feedback and embrace the creative process.

Having a well-defined brand helps us all attract clients and service providers of similar values making our day to day work so much more enjoyable.
Get Your Free Resources
Six articles a year focused on improving your small business. Learn about business development, resilience, brand identity and more...