July 2022
Need to recharge, maybe it is time to get curious…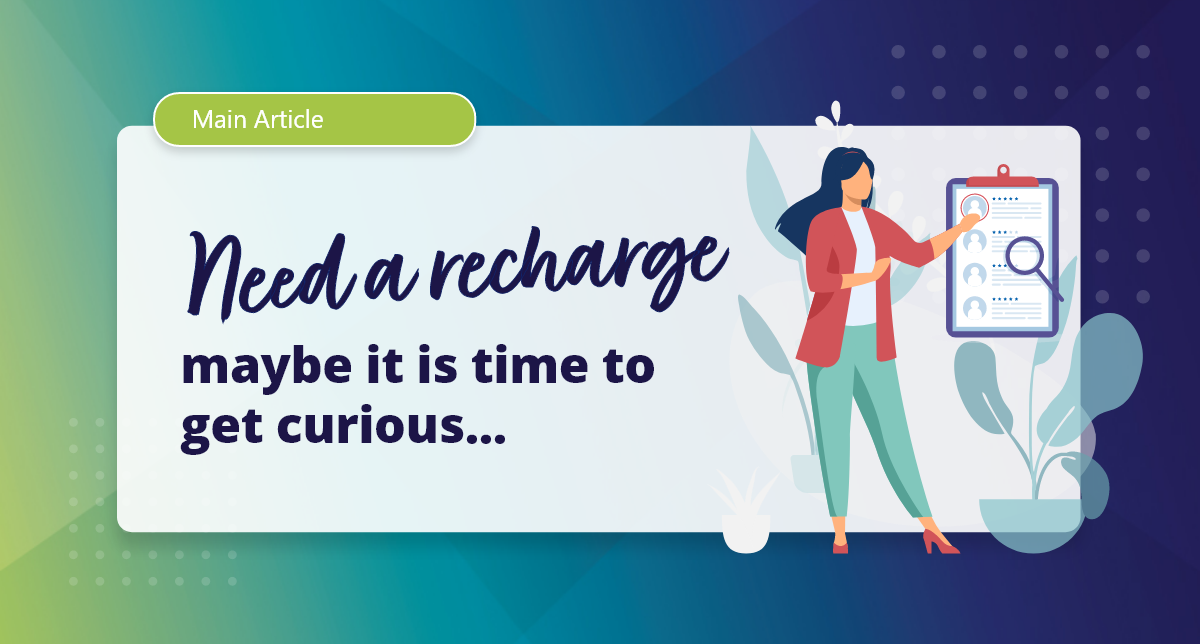 ---
The last few years have been exhausting! Have you had that moment where you just didn't think you had the strength, emotional energy, or mental capacity to continue? In August last year I had an inner voice saying "I'm done; I can't do this anymore…"
How do we know when it's time to try something new? What if the exhaustion we are feeling is just a glitch in time? How do we create space to think, to envisage next steps?
Becoming curious about our passions, thoughts and surrounding environments allows us to consider and observe new ideas. Actively pursuing curiosity drives us to uncover new opportunities.
Reflection, seeing problems as opportunities
When things are feeling tough it is a good idea to take time to reflect. To consider the aspects you enjoy and those you don't. To record what's working, what isn't, what's challenging and what comes easy. Tackling aspects in our workplace that are emotionally draining and sometimes physically debilitating is imperative to the sustainability of both ourselves and the businesses we have created.
For myself I started what I call a Needs Analysis. This included my personal goals, where I wanted to be five years from now, the aspects of my work that I enjoy and an evaluation of the pros and cons of who we serve, how we serve and why. Working through this on my own wasn't easy so I enlisted the help of a therapist and trusted colleague to gain insight from differing perspectives. Over time I was able to note some personal strategies that I could work on to enable change in how I was working. Taking this time to reflect and become curious about the future enabled me to see problems as opportunities.
"Curiosity has many benefits," explains Lucy Hackshaw, Executive Coach at Flux. "It helps us see problems as opportunities. It enables 'flow', which encourages creative and strategic thinking to problem solve and adapt."
Trusting curiosity, implementing change
When we are feeling exhausted and on the treadmill of busyness, it is hard to see the deer in the headlights. Making time to implement changes sounds like an overwhelming task. However, if we trust in our curiosity and acknowledge what we don't know and what we can't control, we have a better opportunity for success. We need to trust our gut instinct, decide what we do know, envisage any gaps and seek support for what we don't.
In the past six months we have consciously concentrated on servicing our core clients and reduced the number of new businesses we work with. We have implemented our IT Support Packages to remove one of the most stressful and time-consuming aspects of our work. We have designed and delivered two new Website Development – Website Needs Analysis Workshops and two Brand Identity Workshops which we have found extremely energising. Creating space to be able to implement change and becoming curious about how we can deliver our services differently will help sustain our business and myself for longer.
Creating space for creativity, and uncovering new opportunities
If we are to continually evolve, we need to create the space to do so. The busyness badge of honour that we have cultivated in our modern world is, exhausting. Taking time to stop, think and absorb is the ultimate power in progress. Taking on a hobby or a creative activity broadens our horizons, it can introduce us to new people and new ideas. Investing time in a hobby promotes what psychologists call a 'flow' state – the mental state achieved when we are fully absorbed in an activity where we feel energised, and time seems to fly by.
Creating space for yet another activity when we are already exhausted and have numerous commitments can be challenging, but can we afford not to? Since the beginning of this year, I have invested 4 hours a week to a ceramics class, not only have I meet new people, learnt new techniques and spent some valuable one on one time with my daughter, but I have been immersed in many a 'flow' state. On these nights I sleep better, wake up more refreshed and my brain works subconsciously on what comes next.
How are you using curiosity to invest in yourself and your business? Do you have a hobby that allows you to achieve a flow state? Let us know what it is.
---
NOTE: You may recognise signs of Burnout in this Article. If you or anyone you know is feeling burnt-out remember it is not you, it is the environment you're in. It is important to have compassion for yourself. For personal advice, you should see a qualified medical practitioner who knows your medical history.
Get Your Free Resources
Six articles a year focused on improving your small business. Learn about business development, resilience, brand identity and more...