Website Ongoing Support Services
Website Maintenance & Updates
Maintaining your website and keeping your content up to date is an important part of your online solution. Customers and potential buyers visit your website to research your products and services, find your contact details and locate your address.
WWW.ART Design Services can take care of website maintenance and updates for you or you can make content updates and installations when you need. We encourage clients performing their own website updates and maintenance to schedule a annual review, in-order to maintain their website design and integrity.
CONTACT
---
SEO Website Review
During the initial planning and consultation phase of your website development, we identify a number of keyword phrases and search terms that we agreed are right for your business. Once the website has been up and running for 3 months, it's a good time to check in to determine if our selected keywords are driving traffic to your website.
Our review will allow for early adjustment of keyword content where required, enhancing the performance of your online presence. We can also discuss any content adjustments that might be useful to help increase your website's call-to-action.
ENQUIRE NOW
To ensure your website is performing to its full potential we recommend completing a Website Review.

An SEO Website Review will take around two hours and you will receive a report indicating current search ranking positions, adjustments made during the consultation and actions that can be taken to advance your website performance further.
To book your SEO Website Review, simply email or contact us.
---
Annual Website Review
The web is constantly changing, and search engines are continuously updating and adjusting their guidelines and algorithms.
To ensure your website is performing to its full potential we suggest you book a 10 Point Website Health Check.
Our Website Health Check will provide an understanding of how your visitors are finding you, what pages they are looking at, and what devices and keywords they are using to find you. We will look at the functionality of the website and how it is performing as a marketing tool. We will offer insights into your website ranking and suggest ways in which you can improve your online presence.

OUr Website Health Check will take around two hours and you will receive a written report detailing on-page and off-page assessments, a search engine ranking report and a face to face consultation where you will learn how to improve and/or maintain your website ranking in major search engines like Google.
To book your Website Health Check, simply email or contact us.
ENQUIRE NOW
---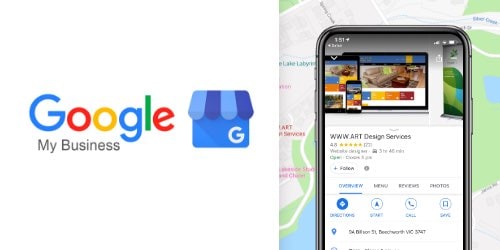 Social Media Setup & Implementation
Social media tools like Facebook, Instagram, Twitter and Google My Business can improve your online success.
Social media has become a platform that is easily accessible to any business with internet access, opening doors to increase brand awareness and conversations with customers. Social media is a relatively inexpensive platform for businesses to implement marketing campaigns and receive direct feedback from their customers.
Social media websites have become important for a total web solution. WWW.ART Design Services can help with the setup of business social media profiles in platforms such as Facebook, Instagram, Twitter, Google My Business and You Tube. We can then integrate these profiles into your professional business website.
ENQUIRE NOW