September 2019
Filling the Happy Bucket...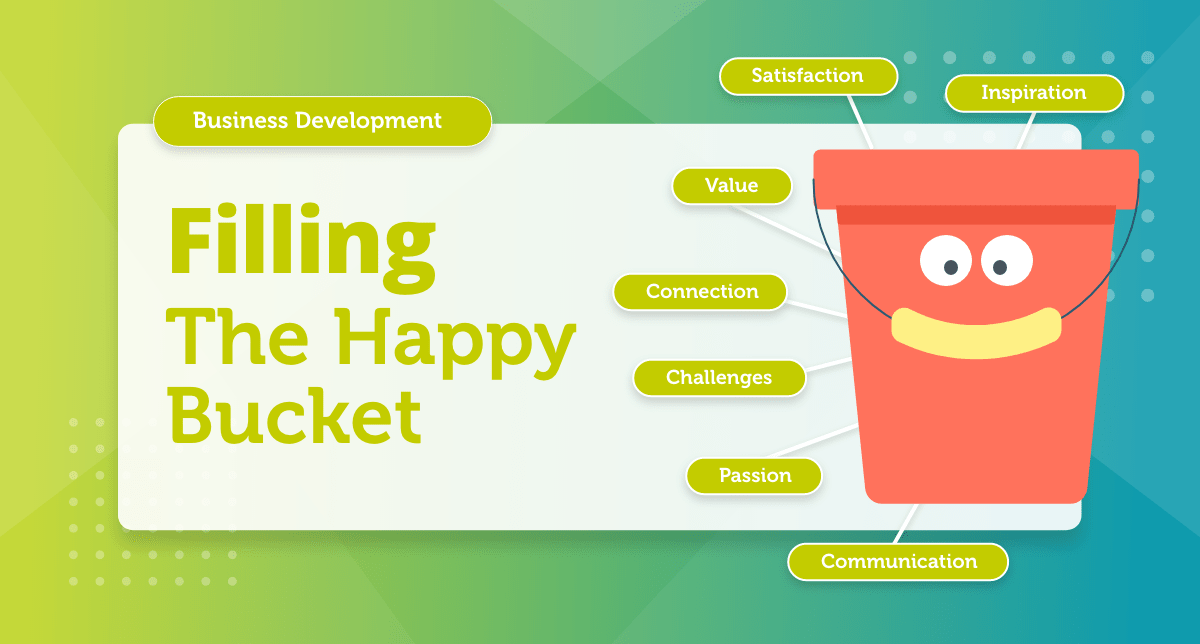 ---
When you have been in business for a while it is easy to fall into the trap of being busy without direction, … just going through the motions. Understanding the deeper meaning of your work can allow you to have more impact on what you do, and a greater sense of satisfaction.
Earlier this year we had two clients move their services with no consultation, at the time I was disappointed but not shocked. As many of you know life has had its challenges in recent years, and I had found myself questioning what we offer, its importance, relevance and value.
Upon questioning our purpose, I encountered this quote from Holocaust survivor Viktor Frank:
"Life is never made unbearable by circumstances, but only by lack of meaning and purpose."

To rediscover my passion, I needed to work on my purpose, and the value I bring to our clients.
You'd think after 21 years I would have it all worked out, but things change, our perspective shifts and to maintain satisfaction in what we do occasionally we need to question and reflect. Don't get me wrong, I have always been proud of the work we produce but it can feel transactional and undervalued at times.
While working for several organisations as a business mentor this year I realised I had underestimated the satisfaction that comes from sharing my story and the little gems that have helped WWWART become effective and successful over the years. Participant feedback has put a spring back into my step and reminded me of the value I can offer through sharing my insights and knowledge.
Reflecting on these mentoring sessions Jayden and I set out to better understand what we love about what we do. We looked at which clients give us energy, what projects inspire us and where we get the most satisfaction. Upon reflection our best work happens when we intimately understand and connect with our clients and their passion. Yes, we do graphic design and website development, but understanding the challenges, identifying the unique selling points and learning about what inspires them enables us to produce an awesome brand, which is ultimately our passion.
In order to develop more meaning in our work and achieve our purpose, we needed to reconsider what and how we communicate with all our clients. By learning more about the day to day struggles and opportunities our clients face, we can support them better. We can offer insight into improving messaging, packaging of services, marketing barriers and empower them to not wait until everything is perfect.
Since I have started sharing my stories, fears and experiences with our clients my day to day job satisfaction has improved. I have found the courage to challenged business owners to consider their passion, the purpose of why they do what they do. One client said to me that he was just a retailer, but when we dived deeper he did what he does to enhance his community, offer local employment and support small local producers. He wasn't just a retailer… Another said she felt like she had done it all wrong but as I pointed out she had started, if she had waited until it was perfect, she probably would never have got started.
The clients that left didn't value what we could bring to their business, we were not communicating our worth. With the introduction of our 'Retention Strategy' and the continued improvement to our 'Initial Consultation' process we hope to connect and reconnect with our clients through stories, conversations and knowledge sharing.
Making a change to the way I communicate has brought more meaning to my work and highlighted that I am surrounded by enthusiastic inspiring business owners who are pursuing their purpose and living their dream. Having more honest and open conversations has certainly made my work more rewarding and strengthened many of our business relationships.
I look forward to connecting with and understanding our clients better in the coming years.
Have you considered your true purpose lately?
If you would like to learn about our Retention Strategy and how it is impacting on the way we do business, book in for a mentoring session with myself through the ASBAS mentoring program.
---
Get Your Free Resources
Six articles a year focused on improving your small business. Learn about business development, resilience, brand identity and more...