July 2019
Custom Design Vs. Purchasing a Template or Theme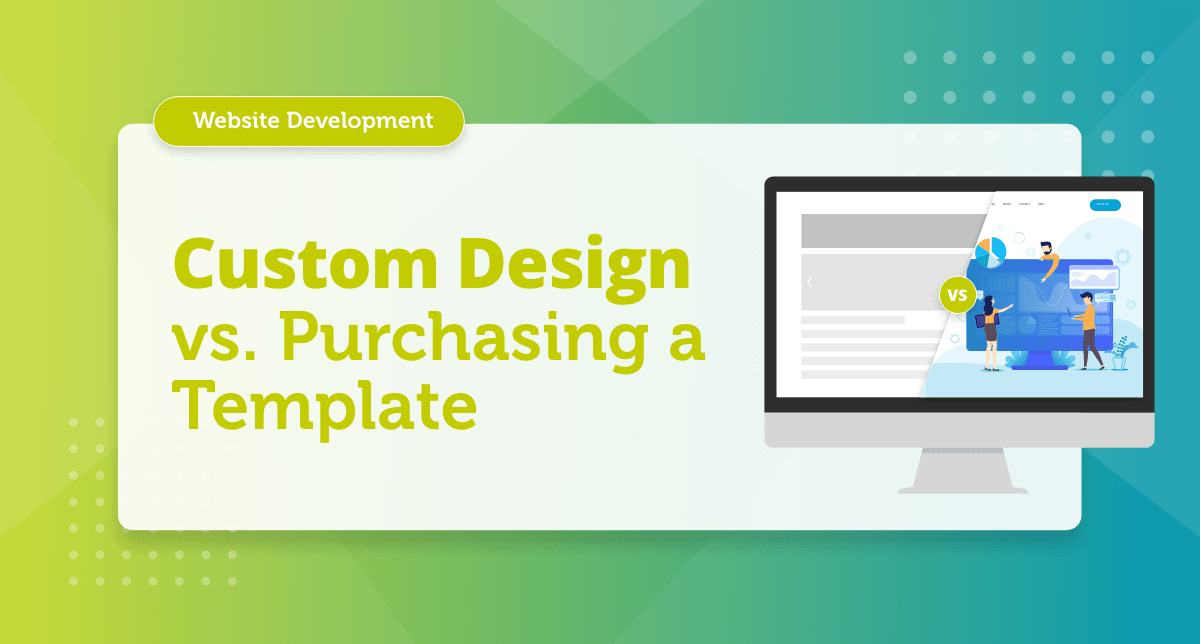 ---
After using a range of different websites for our travels over the past couple of weeks, this month I thought we would explore the differences between our custom designed websites versus purchasing a template and populating it with content.
It is essential to invest in a website for your business, but how do you know what you need and create something that will help your business grown and stand out from the crowd.
Templates & Themes
When it comes to templates there are a few options. Some website developers will use a CMS (Content Management System) installation, purchase of a template and populate it with content. They may adjust the theme colours but essentially, they stick within the structure of the template. With limited budgets some businesses choose services like Wix or Squarespace to provide them with a theme.
Templates and themes usually come with built-in features that the user can customize, these can make changes to the template easier but often weigh down the website, reducing page load speed and SEO performance. Not all templates and themes are responsive, search engine friendly or allow complex features, meaning you may have to compromise on design and functionality that doesn't necessarily fit your brand or business goals.
Benefits & Pitfalls of Templates or Themes
You could be just another in the crowd as your competition is using the same one
Customisation limitations could hinder your success
It may not be responsive or work on all devices
Search engine optimisation might be limited
Installation updates sometimes cause display and formatting issues
If no longer supported your website will become vulnerable
Shorter development time
Great for low budgets
Custom Design
When we custom design a website we tailor it to your business goals and outcomes. The creative process starts with a brand strategy to understand your brand purpose, goals, unique selling points, target audience and tone of voice.
Search engine optimisation is considered during the initial consultation, as for many businesses it plays an important role in their success. During development of each website we adhere to strong guidelines that allow Google and other search engines to read the content of each page serving the end user a more relevant search result.
Benefits & Pitfalls of a Custom Design
A completely unique design built to meet your brand requirements
Adaptable to your business needs and goals
Tested on common browsers and responsive across all devices
Built to meet search engine optimisation criteria
Longer build time and financial investment
Ongoing advice and support
During in our travels we encounter the good and bad of website design, signage and promotional material. There is nothing more frustrating than when you can't find what you are looking for as a website has been populated with content, but the user has not been considered. With limited time often the services we chose were not the cheapest but those businesses that had taken the time to brand themselves well, looked professional and made it easy for us to find the information we needed to make a quick but valued decision.
Our extensive initial planning enables us to create and develop a custom design that is unique to your business, meets your brand goals, implements the functionality required for your business to succeed and most of all takes your customer experience into account. Building a custom design may take longer and require more financial investment but the result will be a more customer focused solution.
With all this in mind we have developed a range of branding and website packages to cater for all budgets, helping you meet your business objectives via a custom design that focuses on making your business stand out to your potential customer in a crowded market.
Contact us to discuss our initial consultation process for the development of your website or view our website packages.
Get Your Free Resources
Six articles a year focused on improving your small business. Learn about business development, resilience, brand identity and more...