June 2018
Clear Signs Your Website is Out of Date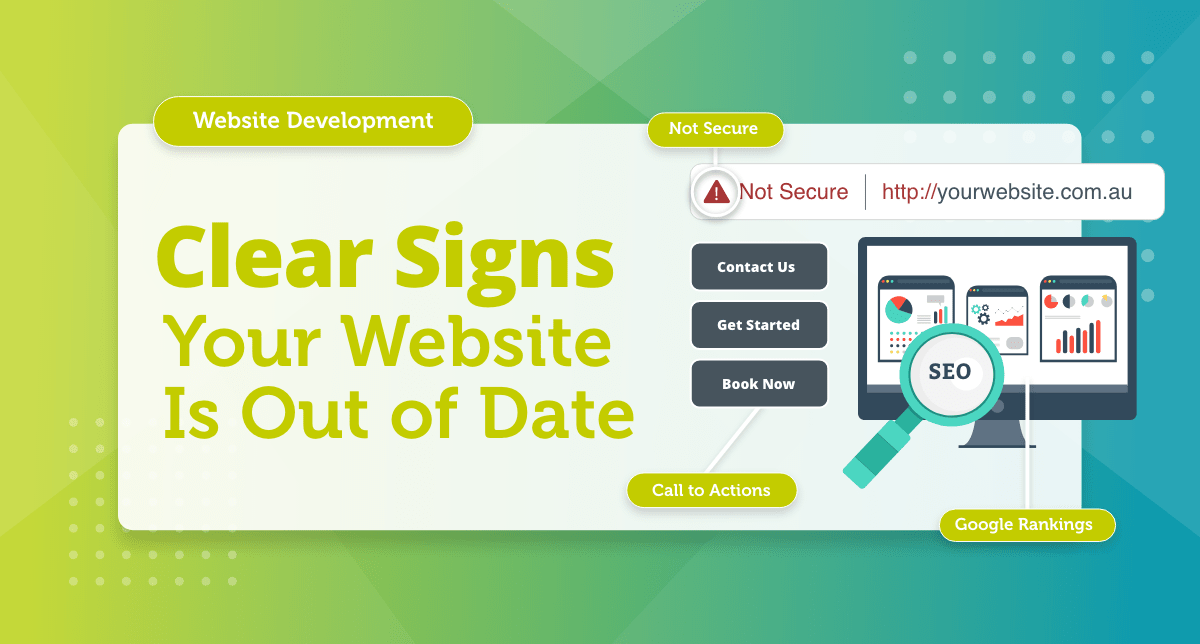 ---
Every website needs an update over time. That's the nature of the web.
If your website is more than 2 or 3 years old, and hasn't had a review for a while, there's a good chance it needs updating. It could have serious problems which may not even be visible to you or your audience that require urgent attention.
Technology is moving extremely quickly and failing to keep things in check could cause serious damage to your business online. Technical demands, people's viewing habits and even the way Google ranks your website change constantly. Ensuring users can find your site, navigate comfortably through it and fulfil your business objectives before leaving, requires regular attention.
Here are five of the most common issues we encounter that indicate a website requires attention.
1. Your website is not secure
It shouldn't be a shock to anyone that Google has been moving towards a more secure web. 
If your website hasn't been converted to HTTPS secure you are putting your business at risk. As of July 2018, with the release of Chrome 68, Chrome will mark all HTTP sites as "not secure".
While there are benefits from a search engine ranking standpoint, there are other advantages to converting your website to HTTPS encryption. When a visitor sees a HTTPS website with a security lock on the address bar it gives them a sense of assurance that the website they are visiting is secure. Creating outside trust in your brand is something Google searches for as their goal is to provide users with the best information possible.
So, even if the search engine ranking factor is not important to your business, the other potential problems of your website not being HTTPS secure are much more damaging than a drop in your search results.
2. Your website doesn't adapt to all screens
Depending on your business, 40%-60% of your web traffic will be using a smartphone or tablet to view your website. If your website doesn't look impressive across all devices there's a high chance that your potential customers, and search engines will be passing you by in preference of those that do.
Websites that adapt to different screen sizes are 'responsive'. Websites that are hard to read, enlarged or shrink, have text, call-to-action buttons and images that are out of alignment on smartphones, are not responsive and in need of updating.
Google places high importance on being mobile friendly and provide a free tool to check that your website is 'responsive'.
3. Your ranking results are low for important keywords
Have you checked if you are generating traffic from your most important keywords? Refreshing your text, re-writing important pages, and presenting them in a way that's search-engine friendly is important to your ranking results.
Your website should always use well written text that is rich in keywords that apply to your business. The use of meta-tags, headings styles and clearly-labelled images on every page of your website should be reviewed annually.
4. You have low lead generation and poor user experience
Your website is your window to the world, it should be your best marketing tool, generating new leads and growing your business. The most successful websites include well designed landing pages, short and precise contact forms, prominently placed calls-to-action and helpful links to the most important pages.
If your website isn't generating leads it's not doing its job and it's time for a change. The purpose of your website is to provide visitors with everything they need to make an informed buying decision. People are searching for answers. If it's a struggle to find them they'll look elsewhere.
5. Your website looks tired and out of date
Be honest, take a look at your competition and ask yourself the question; 'does my website look as good as theirs'. Then ask colleagues, friends and even clients what they think. Good design may be timeless, but taste and progress often define our view of what looks attractive – especially online.
First impressions are everything, you only have a few seconds to capture your audience. After that you've lost them forever. If your website and branding is out of date and doesn't match their expectations visitors will simply move on.
---
Keeping your website up to date and relevant
Websites don't last forever. By far the best policy is to make regular technical checks of your site and address any issues as soon as they're identified.
Refresh or Rebuild?
If you're happy with the overall style and functionality of your website a refresh could be all you need. That usually involves nothing more complex than updating security plugins, or optimising pages for search traffic or cleaning up code to ensure your website is optimised.
However, if your site is beginning to look seriously dated, particularly if it is not responsive, a rebuild is a must.
If you would like us to analysis your websites give us a call on 03 5728 3389 to book a review.
Get Your Free Resources
Six articles a year focused on improving your small business. Learn about business development, resilience, brand identity and more...